Absolutely nothing destroys grease like SIMIX
Stop Hydro-jetting and Snaking Your Lines.
SIMIX keeps kitchen floors safe and squeaky clean
Keeps pipes flowing and ends costly hydrojetting at commercial kitchens and restaurants
Clogged drains and pipes in the kitchen are an expensive, smelly problem.
Stop paying thousands per year to clean your restaurant grease trap and snake the pipes.
Your staff can keep the pipes and drains in your commercial kitchen free-flowing with SIMIX.
There are two easy ways to keep pipes flowing with SIMIX. First, have your staff mop with SIMIX powder, then pour the mop water down the drains. You can also run SIMIX and hot water through the pipes on a regular basis.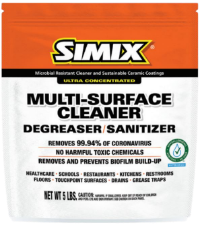 SIMIX Products are Highly Concentrated.
We Cover More Area with a Better Solution!